Fall Into Healthy Eating: Nutrient-Rich Foods for October
As the leaves change and the air turns crisp, October welcomes us with a bounty of delicious and nutritious foods. Embracing the flavors and produce of the season can be a fantastic way to nourish your body. In this blog post, we'll explore some of the best foods to incorporate into your diet this October for a healthy and satisfying autumn.
Pumpkin: The Ultimate Fall Superfood When you think of October, pumpkins probably come to mind. Not only are they great for carving spooky jack-o'-lanterns, but they're also a nutritional powerhouse. Pumpkins are rich in vitamin A, fiber, and antioxidants. You can use pumpkin puree in smoothies, soups, or even as a base for healthier desserts like pumpkin muffins.
Apples: A Crisp and Juicy Delight October is prime apple-picking season in many regions. Apples are not only delicious but also packed with fiber and essential vitamins. Try adding sliced apples to your oatmeal, making homemade applesauce, or enjoying a crunchy apple as a healthy snack.
Sweet Potatoes: Fall's Orange Gem Sweet potatoes are a fall staple that provides an excellent source of vitamin A, fiber, and antioxidants. Roast them with a drizzle of olive oil and a pinch of cinnamon for a sweet and savory side dish.
Brussels Sprouts: Tiny Cabbages with a Big Nutritional Punch These miniature cabbages are at their peak in October. They're low in calories but high in vitamins K and C, as well as fiber. Roast them with a bit of balsamic glaze or add them to a hearty fall salad.
Cranberries: Tart and Tangy Seasonal Delight Cranberries are a quintessential fall berry. They're rich in vitamin C and antioxidants. Try incorporating fresh cranberries into your breakfast oatmeal or making a homemade cranberry sauce with less added sugar for Thanksgiving.
Butternut Squash: Creamy and Nutrient-Packed Butternut squash is a versatile vegetable that can be used in soups, risotto, or as a side dish. It's a great source of vitamins A and C, as well as fiber. Roasting or pureeing it can bring out its natural sweetness.
This October, embrace the season's bounty and nourish your body with these nutrient-rich, autumnal foods. Whether you're biting into a crunchy red delicious apple or enjoying a roasted sweet potato, these foods can help keep you healthy and satisfied throughout the fall season. Happy, healthy eating!
Remember to consult with a healthcare professional or registered dietitian before making significant changes to your diet, especially if you have specific dietary needs or health concerns.
Interested in testing out the recipe for the butternut squash dish pictured at the top? This is a perfect Fall dish full of nourishing flavor. Click on the link below to download the recipe. One stuffed half squash (without cheese) is only 387 calories with 13 grams of protein and 17 grams of fiber.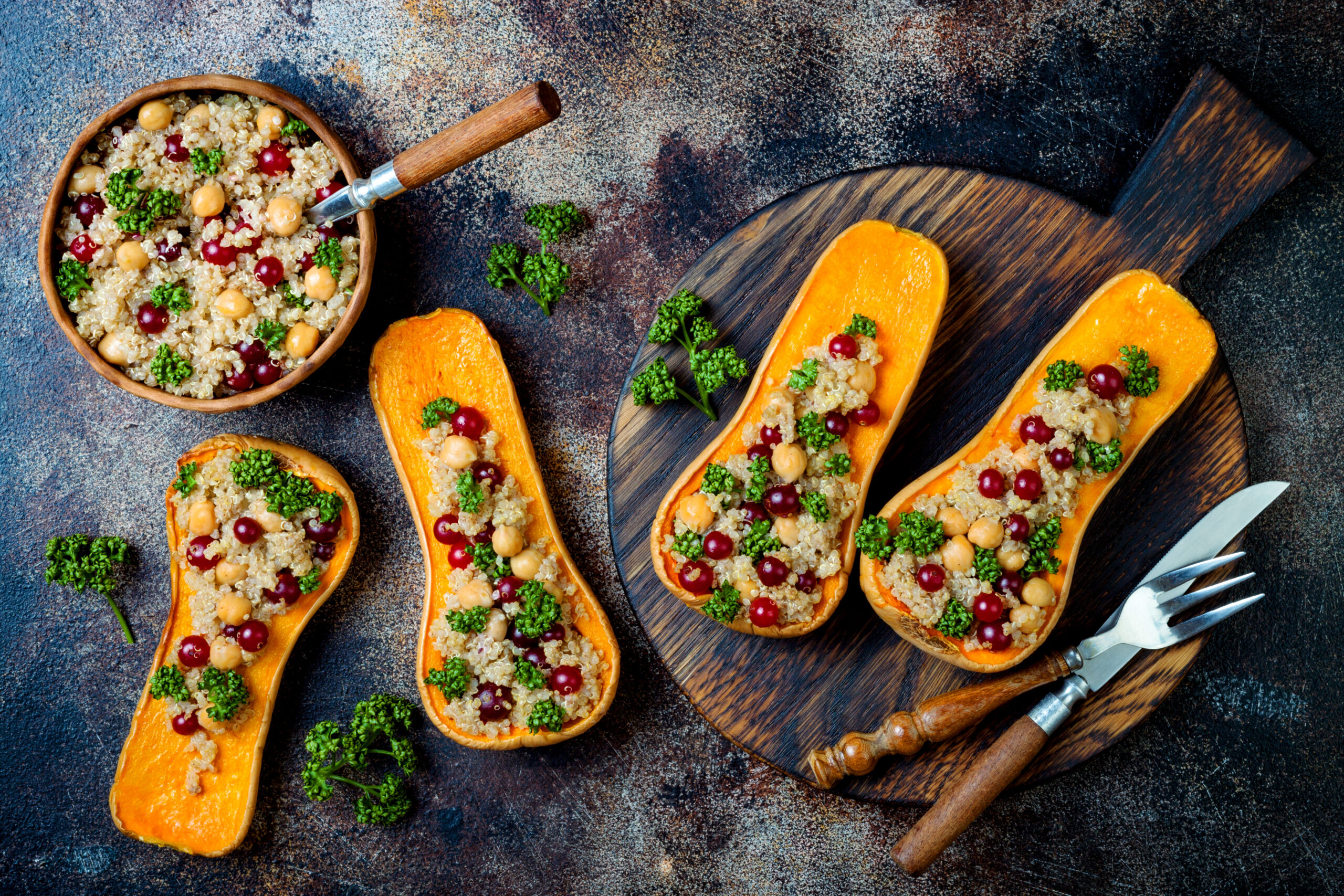 Call to schedule your appointment with an LWell dietitian and get on track to better health.
1309 Jamestown Road, Suite 102
Williamsburg, VA 23185