Elevate Your Holiday Table with Roasted Purple Sweet Potatoes
The holiday season is all about creating unforgettable moments and delicious feasts that bring families and friends together. While tradition often rules the holiday table, it's also an opportunity to surprise your loved ones with something unique and nutritious. Consider roasted purple sweet potatoes for brightening your holiday meal! These vibrant and flavorful gems can add a pop of color and a boost of health to your holiday spread.
Purple Sweet Potatoes – A Colorful and Nutritious Addition: Purple sweet potatoes, also known as Okinawan sweet potatoes, are a stunning variety of this beloved root vegetable. Their unique purple hue adds a splash of vibrant color to your dishes, making them perfect for the holiday season. But it's not just about aesthetics; purple sweet potatoes are packed with healthy nutrients.
Anthocyanins: Nature's Colorful Antioxidants Purple sweet potatoes contain significant amounts of anthocyanins, which are purple-colored pigments found in various plant foods, such as blueberries and raspberries. These pigments are a type of polyphenol often referred to as "antioxidants." Antioxidants are known for their potential to protect our health.
Heart Health Benefits Recent research indicates that a diet rich in anthocyanin-rich foods may have a positive impact on heart health. A 2021 meta-analysis of large observational trials discovered that regular consumption of anthocyanin-rich foods was associated with a 9% lower risk of coronary heart disease (1). This means that incorporating purple sweet potatoes into your holiday meal could be a heart-healthy choice that your guests will appreciate.
Blood Pressure Regulation Purple sweet potatoes might also contribute to better blood pressure regulation, thanks to their potassium and anthocyanin content. Potassium is well-known for its role in maintaining healthy blood pressure levels, and the anthocyanins in these potatoes can offer additional support. So, including purple sweet potatoes in your holiday feast could be a thoughtful gesture for those who prioritize their cardiovascular health (2).
This holiday season, consider surprising your guests with a vibrant and nutritious addition to your table – roasted purple sweet potatoes. Their stunning color, heart-healthy benefits, and delicious flavor will not only elevate your holiday spread but also show your thoughtfulness in providing a meal that's as good for the body as it is for the soul. Enjoy the holidays and the goodness of purple sweet potatoes!
Now that you're intrigued by the potential health benefits of purple sweet potatoes, let's dive into how to prepare them for your holiday table.
Ingredients:
2 large purple sweet potatoes
1/2 lemon, quartered & sliced
3 tablespoons olive oil
1 tablespoon harissa
1 teaspoon ground cumin
salt & pepper to taste
chopped parsley
Directions
Cut 2 large purple sweet potatoes into thin wedges.
Toss on a rimmed baking sheet with 1/2 lemon (quartered and sliced), 3 tablespoons olive oil, 1 tablespoon harissa and 1 teaspoon ground cumin;
season with salt and pepper.
Roast at 425˚ F, stirring once, until tender and lightly browned, 30 minutes.
Top with chopped parsley.
1 – Anthocyanins: A Comprehensive Review of Their Chemical Properties and Health Effects on Cardiovascular and Neurodegenerative Diseases
Roberto Mattioli,1,† Antonio Francioso,2,† Luciana Mosca,2,* and Paula Silva3,*
2 – Anthocyanins, Anthocyanin-Rich Berries, and Cardiovascular Risks: Systematic Review and Meta-Analysis of 44 Randomized Controlled Trials and 15 Prospective Cohort Studies
Lin Xu1,2,3,4 Zezhong Tian1,2,3,4 Hong Chen1,2,3,4 Yimin Zhao1,2,3,4* Yan Yang1,2,3,4*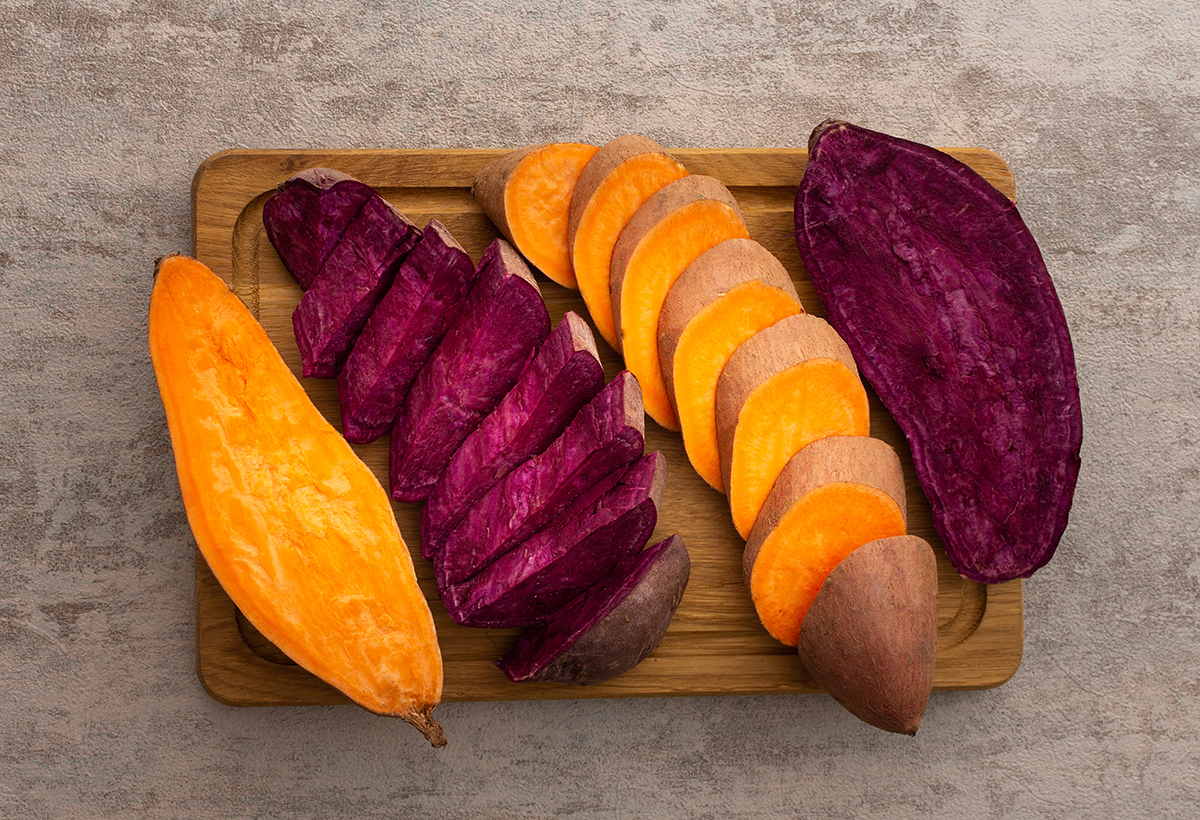 Call to schedule your appointment with an LWell dietitian and get on track to better health.
1309 Jamestown Road, Suite 102
Williamsburg, VA 23185